Post by brenna on Oct 4, 2012 18:50:43 GMT -5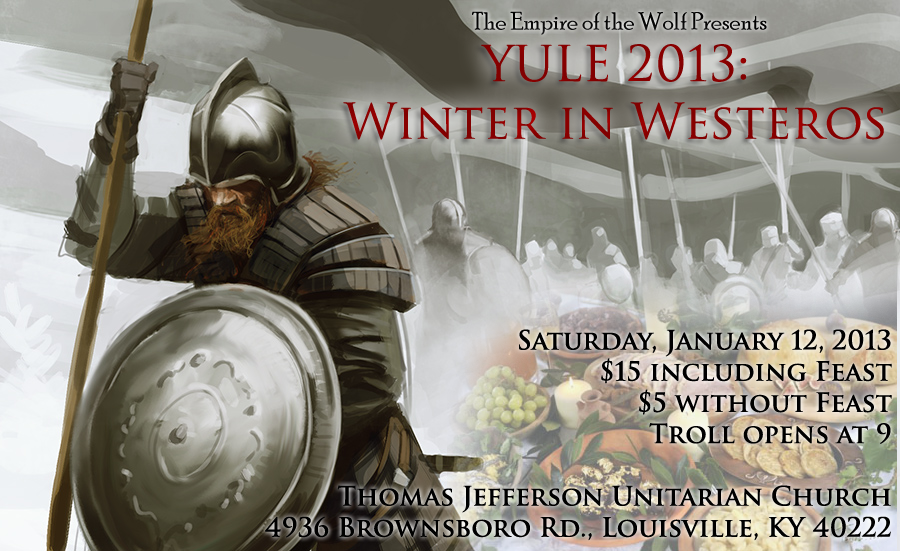 Summers have been generous and tales of the long, dark winters have become but a child's tale. Yet a whisper, a warning, has begun to spread among the Seven Kingdoms, "Winter is Coming". The battles have been fought, the wilds tamed, for now, so the King of the Northern Reaches, and the Empire of the Wolf, invite you to spend your "Winter in Westeros" for Yule 2013.
Site Address: Thomas Jefferson Unitarian Church 4936 Brownsboro Rd. Louisville, KY 40222
Enjoy a morning filled with scenarios and battles from across the Seven Kingdoms, then face off against friend and foe to determine our new Yule King or Queen through a variety of tournaments in honor of the Yule Crown.
The top three fighters in each tourney receive points and extra points will be awarded to the fighter considered to display the "Spirit of Yule" throughout the event. The fighter with the most points at the end of the tourneys will be crowned Yule King or Queen at our High Court. Tourneys include:
2 man - 1 dagger
Sword and Board
Single Blue
Random Draw
Shield Tourney
Archery
Sample foods from the lands of Westeros and across the Narrow Sea, and indulging in foods suitable for any Lord or Lady of Winterfell or King's Landing. Our culinary journey spans 3 hearty courses, and will be followed by a dessert table to peruse during High Court. Remember to bring empty stomachs and don't forget to bring your feast gear, as none will be provided!
Feast Menu:
1st Remove:
Tea Eggs
Dothraki Blood Pies
Fish Tarts
Honey-Spiced Locusts
Hummus with Flatbread
2nd Remove:
Beef & Bacon Pie
Castle Black Salad
3rd Remove:
Roasted Auroch with Roasted Root Vegetables in Gravy
After Dinner Sweets:
Coffee & Tea
Honey Fingers
Lemon Cakes
Winter Cakes
Cream Swans
Vegetarian Option (be sure to indicate you would like the vegetarian option when you pre-reg!):
Rustic Beet Soup
Pease Porridge
Cheese & Onion Pie
There is a seating cap of 75 on our feast, so please pre-reg to guarantee your spot! Please let us know if you will be partaking in the Vegetarian Option when you pre-reg!!
You can make your reservation by visiting
www.empireofthewolf.com
and clicking the PayPal link, or sending in a personal check to the address on the website.
We, the Empire of the Wolf, take pride in our event, both in how it is run and how it looks. Therefore, we strictly adhere to the Dagorhir MOA garb rule set.
1). We require all attendees, combatants or not, to wear at least Dagorhir minimum garb at our event, better and exceptional garb is strongly encouraged.
2). All safety equipment & logos MUST be concealed in some way, this includes knee pads, braces, sunglasses, modern/MMA gloves w/ logos, etc.
3). This is a winter event, we fight outside in the snow, DRESS IN APPROPRIATE GARB & LAYERS. We will not make concessions for obvious modern/mundane winter clothing, it can be easily concealed by/under your garb. This includes modern/mundane coats, underarmor, modern/mundane hats, or anything else that may bear a modern/mundane logo. Hoods from hoodies/sweatshirts may be visible on top of your garb, provided it bears no modern/mundane logos/prints.
4). We reserve the right to ask you to leave the event at any time, without a refund, if you fail to comply with these basic rules. NO GARB = NO FIGHTING OR FOOD.
If you have any questions, please visit us at
www.empireofthewolf.com
We hope to see you there!
Kensman Ilariia Bulochnika
Dronning of the Empire of the Wolf